Butternut Squash Goat Cheese Dip with Tart Cherry Compote Recipe
Butternut Squash Goat Cheese Dip with Tart Cherry Compote Recipe Summary
Total Time: 50 Minutes
Prep: 40 Minutes
Cook: 10 Minutes
Yield: 6 People
Level: Beginner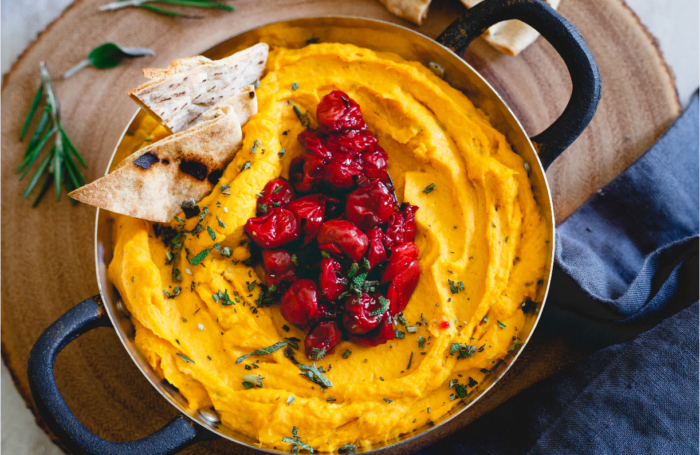 Ingredients
3 cups cubed butternut squash
1 tablespoon extra virgin olive oil
1/2 tablespoon chopped rosemary
salt and pepper to taste
1/2 teaspoon cinnamon
1/2 teaspoon garlic powder
1/4 teaspoon nutmeg
3 ounces goat cheese
2 ounces cream cheese
1 cup frozen Montmorency tart cherries
1 tablespoon water
1 tablespoon lemon juice
1/2 tablespoon chopped rosemary
Directions
Preheat oven to 425 degrees. Line a baking sheet with aluminium foil.
Toss the butternut squash with the olive oil, salt, pepper and rosemary and spread out on baking sheet. Roast for 30 minutes until fork tender, tossing half way through.
While the squash roasts, make the tart cherry compote by combining all ingredients in a small sauce pot over medium heat. Bring to a boil then reduce to a simmer and cook for about 10 minutes until reduced and thickened, stirring occasionally. Remove from heat and set aside.
Add the roasted butternut squash to a food processor with the remaining ingredients. Process until smooth, scraping down the sides as needed.
Reduce oven temperature to 350 degrees.
Transfer the squash mixture to a baking dish and smooth the top with a spatula. Bake in the oven for about 10 minutes until warmed through.
Remove the dip from the oven, top with the tart cherry compote and any extra chopped herbs. Serve warm with toasted pita wedges or vegetables.
Recipe courtesy of Gina Matsoukas, runningtothekitchen.com