Tart Cherry Chocolate Chip Cookies Recipe
Tart Cherry Chocolate Chip Cookies Summary
These Tart Cherry Chocolate Chip Cookies are the perfect blend of tart and sweet and the cherries and chocolate go so well together!
Total Time: 22 minutes
Prep: 10 minutes
Cook: 10-12 minutes
Yield: 10 cookies
Level: Beginner
Ingredients
1 tablespoon flax seed meal + 2 tablespoons water
¼ cup melted coconut oil
½ cup coconut sugar
¼ cup tahini
1 teaspoon vanilla
¾ cup oat flour
½ cup oats
½ teaspoon baking soda
1/3 cup chocolate chips
⅓ cup dried Montmorency tart cherries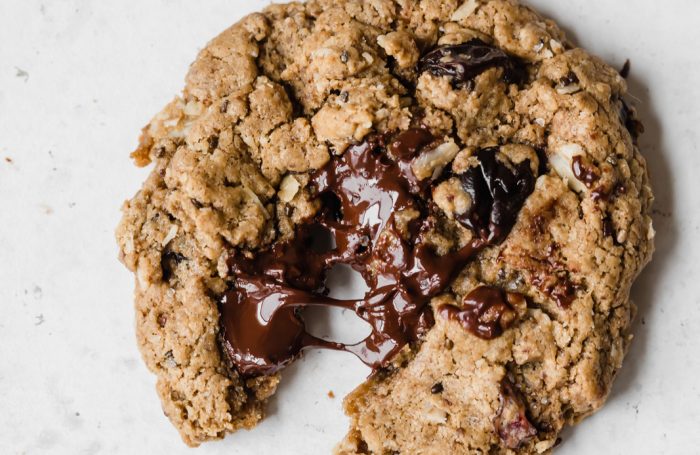 Directions
Preheat oven to 350 degrees F. line a cookie sheet with parchment paper.
In a large bowl whisk together the flaxseed meal and water. Let it sit for 2 mins, then stir in the melted coconut oil, coconut sugar, tahini and vanilla extract until smooth.
Stir in the oat flour, oats and baking soda until a dough forms. Stir in the chocolate chips and dried tart cherries.
Use a cookie scoop to add cookie dough to prepared baking sheet, leaving 2 inches apart between each.
Bake for 10-12 minutes. Sprinkle with sea salt when done!
Enjoy your delicious tart cherry chocolate chip cookies!
Recipe courtesy of Monique Voz, Ambitious Kitchen
For more recipes, click here.