Fluffy Cherry Marshmallows Recipe
Fluffy Cherry Marshmallows Summary
These Tart Cherry Chocolate Chip Cookies are the perfect blend of tart and sweet and the cherries and chocolate go so well together!
Total Time: 30 minutes
Prep: 30 minutes
Cook: N/A
Yield: 36 1 1/2" marshmallow cubes
Level: Intermediate
Ingredients
2 envelopes unflavored powdered gelatin
1 1/2 cups Montmorency tart cherry juice, divided
1/3 cup plus 2 tablespoons light corn syrup
1 3/4 cups sugar
1/4 teaspoon kosher salt
1/3 cup powdered sugar, for dusting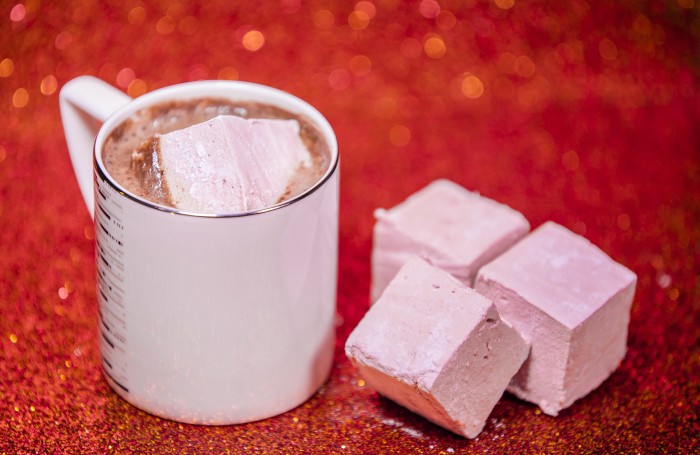 Directions
In a small bowl, mix the gelatin with 4 ounces (1/2 cup) Montmorency tart cherry juice. Combine the remaining 8 ounces (1 cup) Montmorency tart cherry juice with the corn syrup, sugar, and salt in a 3-quart stainless steel pot. Stir with a fork over medium heat until it begins to simmer. Clip a digital thermometer to the pot, increase the heat to medium-high, and simmer without stirring until the ruby syrup registers 250° (about 15 minutes altogether).
When the syrup comes to temperature, transfer the thermometer to the bowl of a stand mixer and pour in the hot syrup all at once. Cool to 212° and add the gelatin. With the whisk attachment, mix on low speed for a minute to combine, then increase to medium-high and whip until tripled in volume, about 10 minutes. Scrape into a well-greased 8" by 2" square baking pan, cover with foil, and refrigerate 2 hours.
Once firm, pry the marshmallow from the pan and place on a powdered sugar dusted cutting board. Rub powdered sugar over the marshmallow, cut into six 1 1/2" strips, then cut each into six pieces. Tumble with the remaining powdered sugar in a large bowl and store in an airtight container up to a month at room temperature.
Recipe courtesy of Stella Parks.
Discover more great recipes here.