Mini Tart Cherry Galettes Recipe
Mini Tart Cherry Galettes Recipe
These Mini Tart Cherry Galettes are a delicious and healthy alternative to other sweet treats.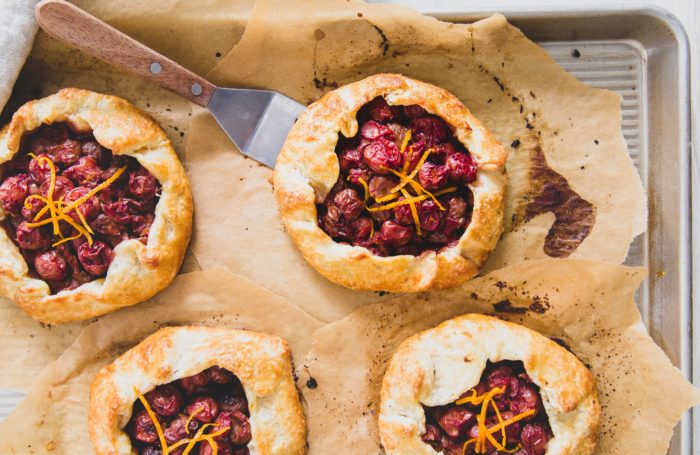 Summary
Total Time: 1 Hour 52 Minutes
Prep: 30 Minutes
Cook: 1 Hour 22 Minutes
Yield: 4 Servings
Level: Intermediate
Ingredients
For the Crust
2 cups all purpose flour
1 teaspoon salt
2 tablespoons sugar, divided
1 1/2 sticks (12 tablespoons) cold unsalted butter
1/3-1/2 cup cold water
1 egg white
For the Filling
2 – 15 ounce cans Montmorency tart cherries packed in water, drained
1 tablespoon maple syrup
zest from 1 medium orange
1 teaspoon vanilla extract
1 1/2 tablespoons cornstarch (or arrowroot flour)
pinch of salt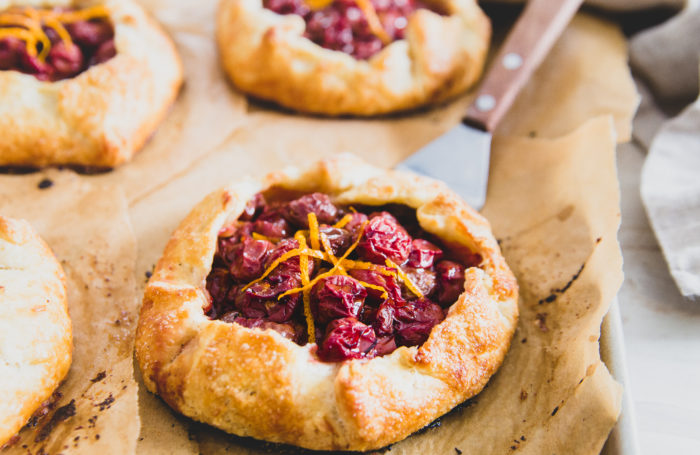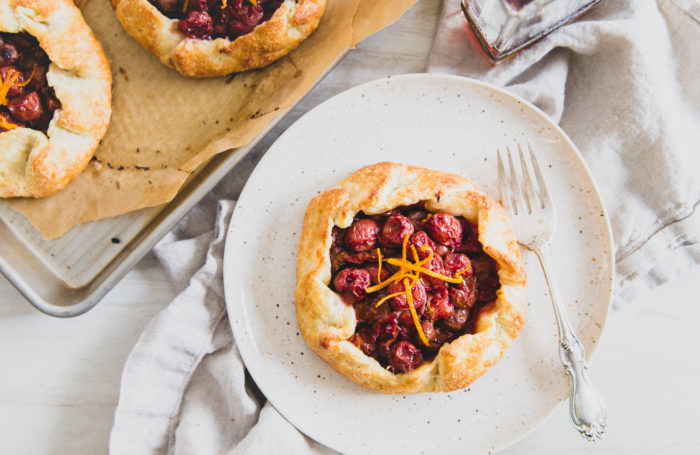 Directions
For the crust:
Combine the flour, salt and 1 tablespoon of the sugar in a large bowl, whisk to combine.
Grate the butter then add to the bowl with the flour. Incorporate the butter into the flour mixture using your fingers until a fine crumb texture.
Slowly add the water until the mixture just holds together. Form the dough into a disc shape and cover with plastic wrap.
Chill in the refrigerator for at least an hour.
For the filling:
Place the drained Montmorency tart cherries in a large bowl.
Add the maple syrup, orange zest, vanilla, cornstarch and salt and toss to combine. Set aside.
To assemble the pies:
Preheat oven to 450°F.
Divide chilled dough into 4 even sections.
Place a piece of parchment on the countertop and lightly flour.
Roll a section of the dough out into a circle shape on the parchment.
Place the parchment paper with the rolled out crust onto a baking sheet.
Place 1/4 of the filling in the middle of the pie crust, leaving as much excess liquid as possible in the bowl.
Carefully fold up the sides of the crust and overlap every 1-2″, pinching the crust together so that it stays folded.
Repeat with remaining 3 sections of dough.
Lightly beat the egg white and brush all over the pie crust.
Sprinkle remaining 1 tablespoon of sugar on top of the crust.
Place baking sheet in the oven and immediately lower to 425°F.
Bake for 7 minutes, turn the pan, lower the heat to 400°F and bake for another 15-17 minutes until entire crust is golden brown.
Remove the baking sheet from the oven and let cool for at least 10 minutes.
Drizzle with additional maple syrup and orange zest before serving if desired.
Recipe courtesy of Gina Matsoukas, runningtothekitchen.com