Tart Cherry Greek Yogurt Pancakes with Tart Cherry Maple Syrup
Tart Cherry Greek Yogurt Pancakes with Tart Cherry Maple Syrup
Brighten up Pancake Day with our Tart Cherry Greek Yogurt Pancakes with Tart Cherry Maple Syrup. It's no secret that on Pancake Day, Sour Cherries can make a great difference to your celebration.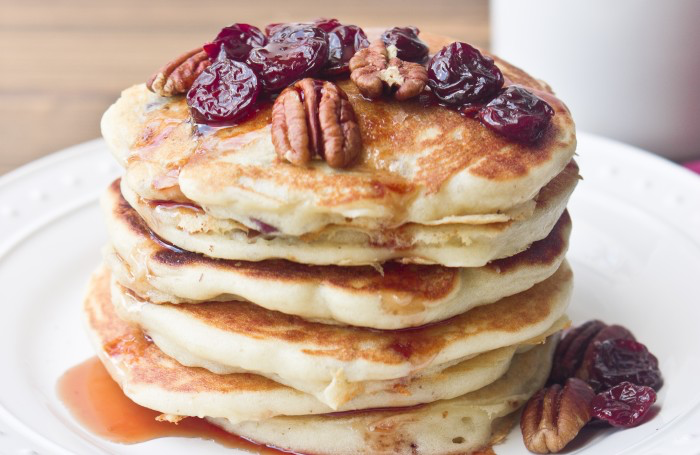 Summary
Total Time: 25 minutes
Prep: 10 minutes Cook: 15 minutes Yield: 14 pancakes Level: Beginner
Ingredients
To make pancakes
250g all-purpose gluten-free flour, sifted
5ml baking soda
5ml salt
2 large eggs, slightly beaten
30ml coconut oil, melted
20ml non-fat vanilla Greek yogurt
170 ml milk
90g dried Montmorency tart cherries
50g pecan halves, chopped
To make syrup
170g 100% pure maple syrup
15ml Montmorency tart cherry juice concentrate
Dash of cinnamon
Directions
In large bowl, whisk together flour, baking soda and salt.
In separate bowl, whisk together eggs, oil, yogurt, and milk.
Pour wet ingredients into dry ingredients and stir until combined.
Fold in cherries and pecans.
Ladle 30g of batter per pancake onto hot lightly greased griddle.
Cook pancake until it bubbles on one side, and flip.
Cook until golden brown on other side.
To make syrup, combine maple syrup and Montmorency tart cherry juice concentrate in a small pot over low heat. Whisk in cinnamon until blended and keep warm until ready to serve.
Recipe courtesy of Kristina LaRue, LoveandZest.com.